December 9th, 2009
Forget the emails. Forget the conferences. Forget Gullible Al Gore. If the basic temperature measurements used as the basis for global warming claims are finagled to produce a predetermined result (warming), then the end result is fraud, no matter how you package it as science. Both the English (CRU) and the Nasa (GISS) basic temperature measurement data and their processing code have been subject to freedom of information requests, which the respective custodians have so-far refused to comply with. Now we have revelations from an independent Australian set of weather measurements (apparently also used by IPCC) that show clearly how valid data can be (and is) twisted to yield a predetermined result. It is this "adjusted" data on which the models of doom and catastrophe are based.
The descriptions of the data deception are fairly detailed and lengthy, but not hard to understand if you take a little time to read them. A basic chart is shown below to entice you to read the full reports.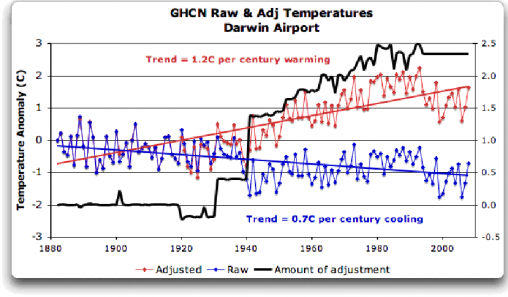 The blue line is raw, non-adjusted temperatures. The red line is temperatures after adjustment. And the black line shows the adjustments that produced the red line.
This is just one example from one weather station. But to get the whole picture, see the two links below.
and
Smoking Guns Across Australia: Where's the warming? Looking at 16 other locations."
This kind of analysis, in detail, is required for both the CRU and the GISS temperature sets. Then let the scientists behind the finagled data defend their conclusions.